Welcome to sites of Museum Tesla in Trest!

Museum Tesla is a non-state, non-profit exposition established by Historical Czechoslovakian Radio-club seated in Trest. Museum Tesla has been developing gradually since 1995 and according to our sources at the present day it has the biggest collection of the similarly aimed exhibits in Europe. Collection items were gathered and stored in various parts of the republic. In May 2003 the building of former granary in Trest near Jihlava was successfully bought into the property of our radio-club. After 10 years of reconstructions and adaptations, which are still far from over, in August 2012 the first public exhibition named "Tesla, the Heritage of CZ Electric Industry" was ceremonially opened in the building, with the significant help of MAS Trestsko and successfully obtained grant of the EU Foundations.





News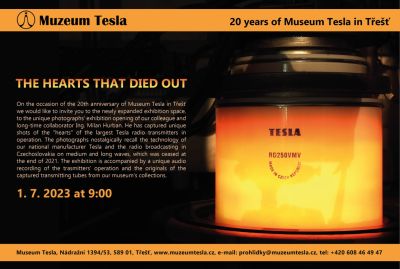 29. 8. 2023 Dear museum fans and visitors. On Saturday 9th September there will the open house day in Třešť and our museum is going to be its part. It offers you a unique opportunity to visit our museum, its expositions and exhibition completely free or charge. On that special day, guided by our curators, you will also be allowed to look behind the closed door of our depository and to get informed about our collection by the specialists. The open-house day takes part all over our town, after visiting us you can also visit other open sights and museums of Třešť.
The same day is the final one for the exhibition "Srdce která vyhasla" by our colleague ing. Milan Hurban. You will, therefore, have the last opportunity to see the unique pictures of our largest radio transmitter's hearts and to recall the atmosphere of the transmission rooms in our newly reconstructed museum cellar.

26. 4. 2023 Dear Museum visitors and fans. As you may know, this year we are celebrating 20 years of our existence and for this important anniversary, among other actions, we have prepared a new Wander Card. The Anniversary Wander Card V-233 will be had in our museum since Wednesday 26th April. If you collect the cards, you should not have it escaped. Thank you for your favour and we are looking forward to your visit!

18. 3. 2023 Dear visitors and fans of our museum. In this anniversary year, we managed to gain the presentation space in the international exhibition AMPER 2023 at Brno exhibition grounds. In case you visit Ampér, you can see out stall in Pavilion P under the number P5.33. We are going to show there our achievements together with the Czech Radio club between 21st and 23rd March. We are looking forward to see you there!

3. 3. 2023 Dear visitors and fans of our museum! We would like to greet you in the anniversary year 2023, in which our museum celebrates 20 years of its existence in the pretty little town Třešť in the Highlands. For this reason, this year, we are going to prepare verious actions and exhibitions which we are going to announce in our websites and surely in the media as well. We are looking forward to seeing you regularly since 1st April 2023 every Wednesday and Saturday 9 AM to 5 PM.

25. 9. 2022 Dear visitors and fans of our museum. Autumn has come and so has the end of the tourist season in our museum. We would like to invite you to the last day of guided tours, which will take place on a holiday on Wednesday 28th September 8 am to 5 pm. The same day, you can also personally contribute to rescue one of the important technical monuments endangered by the upcoming destruction. In our museum, you can sign the petition organised by Spolek přátel obce Liblice for the preservation of the transmission masts, which are an important technical monument and also the tallest structure in the Czech Republic. We would like to thank you for your favour and we are going to prepare some new interesting exhibits in our exposition in the next year. They will be available not only for seeing but also for touching and trying so that you could imagine the vastness of our biggest producer of electronic equipment's production. For the impatient ones of you, we are still offering the possibility to book an individual visit during the month of October by calling the cellular number 608 46 49 47.

OPENING HOURS
1. 3. - 31. 9.
Wednesdays 9:00-17:00
Saturdays 9:00-17:00

prohlidky@muzeumtesla.cz
tel: 608 46 49 47

ADMISSION
Basic 150 CZK
Reduced 100 CZK

VISIT RULES